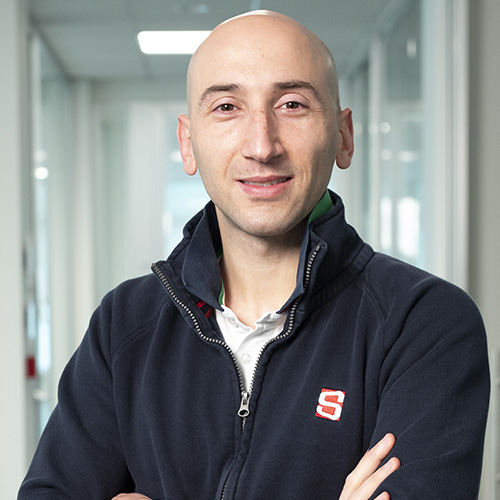 Division Manager AG, Bus & Passenger
DO YOU REMEMBER YOUR FIRST DAY AT THE COMPANY? TELL US HOW IT WENT.
I joined Streparava on 20 February 2017. I remember the excitement and the curiosity of starting at a company for the first time and meeting my new colleagues. The welcome that I received went far beyond anything that I could have expected, I could even say that it was dazzling: photo with flash for the badge at 08:00 with Marzio Rigamonti! After having sorted out the admission procedures with the human capital office, I went to the technology office to begin my onboarding process.
HOW DID YOUR CAREER AT STREPARAVA DEVELOP?
I began my career path as industrialisation projects manager and assembly process technologist. I was lucky enough to learn about new products, new processes, and to further develop contacts with clients. Even though I arrived from previous experiences in the automotive sector, I have always been attracted by the possibility that I have had in these years of visiting the vehicle assembly factories. After about 2 years, I was given the great opportunity to manage a production division, and since January 2019 I have been the DSB (Bus Suspension Division) head.
WHAT DO YOU LIKE MOST ABOUT YOUR WORK AT THE COMPANY?
I like life in the department: people, machinery, sharing the difficulties and working together to solve problems. For me, every day, production is a challenge and a job performed as a team.
WHICH WAS THE MOST REWARDING MOMENT, AND WHICH WAS THE HARDEST?
For me, the most rewarding moment was also the hardest.
With the COVID-19 pandemic, we have had to face times of great professional and personal difficulties. We contributed to the process of organising work in safety, and of monitoring compliance with the regulations, all while still guaranteeing deliveries to our customers. It was very difficult due to the pressure that was on us every day, but having been able to surpass those critical moments with great professionalism was very rewarding, even though we will have to wait a little longer before we are able to return to "normality".
WHAT IS THE FIRST THING YOU DO AS SOON AS YOU REACH THE COMPANY? AND WHICH RITUAL CAN YOU NEVER REFUSE?
Before anything else, I put on my safety shoes, and right after that I plan my day at work. After the first initial sprint, I cannot go without a mid-morning coffee.
TELL US A STORY THAT, IN YOUR OPINION, BEST DESCRIBES THE ATMOSPHERE ON THE JOB AT STREPARAVA.
I don't have a specific anecdote, but the thing that surprises me is the calm approach to work at Streparava. Before starting the day, a brief, pleasurable conversation with my colleagues, a few comments on how things went the evening before, and straight afterwards we all start in earnest, doing our utmost to reach the corporate objectives: safety, quality and continual improvement. This wholly represents the Streparava values: team spirit, wellness and challenges!
COULD YOU TELL US ABOUT RELATIONS WITH YOUR COLLEAGUES?
Relations are relaxed and peaceful, of course there are moments of tension, but these are always overcome by a highly professional approach, without ever exceeding the limits of our corporate functions and with mutual respect.
IS THERE A PRODUCT TO WHICH YOU ARE PARTICULARLY ATTACHED?
Without doubt, the Lamborghini URUS: this was my first industrialisation project, and it has been a small but great source of satisfaction from when I have been working at Streparava. Concluding the industrialisation of this product, meeting the client's deadlines and quality standards, was achieved by means of a notable team effort.
WHAT ADVICE WOULD YOU GIVE TO A PERSON WHO WOULD LIKE TO JOIN THE STREPARAVA TEAM?
Streparava has clear objectives and great ambitions for growth, but it wants to achieve this without compromise, in other words without failing to maintain its values, its vision and mission. My advice would be to always reply first to the question "Who am I?", and only then ask "Where do I want to go?" This is the reason why: "We have been a family since 1951. Ready for the challenges of the future".
READ THE LATEST INTERVIEWS