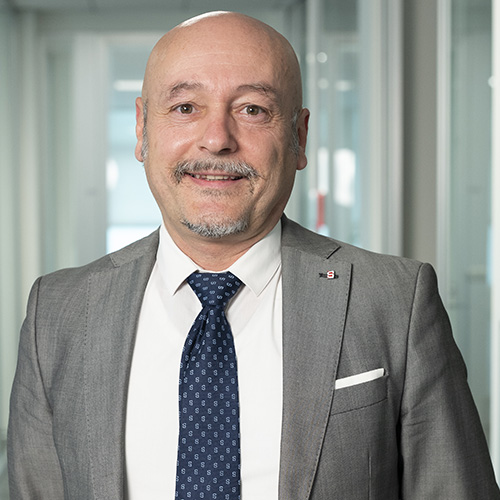 DO YOU REMEMBER YOUR FIRST DAY AT THE COMPANY? TELL US HOW IT WENT.
My first day of work, in 1990, was rather like the first day at school: a lot of excitement, along with a degree of worry caused by the fear of not knowing whether I would perform satisfactorily. I was 22 years old and I have vivid memories of meeting my first colleagues, the many names to remember, the forms to be filled, the desire to make a good impression and to construct a stable position of employment from the start. Everything was new to me, but luckily I immediately met some obliging colleagues who gave me good advice and put up with me.
HOW DID YOUR CAREER AT STREPARAVA DEVELOP?
My career path at Streparava began thirty years ago and luckily it has not ended yet. Over the years I have been able to develop progressively together with the Company, to meet many people, and to learn a lot in both professional and human terms. Even after such a long time, every day I still find myself learning new things.
WHAT DO YOU LIKE MOST ABOUT YOUR WORK AT THE COMPANY?
I am involved in staff administration (payslips, social security, pensions, health and accident insurance…), which is a fairly complex area because every day it is subject to bureaucratic updates and the interpretation of regulations, but it is precisely this that makes it so interesting and that every day gives me the chance to learn something new and enrich my knowledge, so that I can succeed in handling increasingly complex or unexpected situations. In addition, I like the possibility of being able to interact with many people every day, and to work in a group for mutual benefit.
WHICH WAS THE MOST REWARDING MOMENT, AND WHICH WAS THE HARDEST?
In my job, I am satisfied every time that I manage to solve certain complex bureaucratic procedures, and when my capacities are noticed and appreciated.
The hardest moments are in managing days in which multiple deadlines build up, and have to be handled contemporaneously with the many issues occurring in the office every day.
WHAT IS THE FIRST THING YOU DO AS SOON AS YOU REACH THE COMPANY? AND WHICH RITUAL CAN YOU NEVER REFUSE?
As we are still in an emergency health situation, the first thing that I do when reaching the company is to visit the Covid Area for the necessary checks required by safety regulations, and then I go to my workstation. I cannot deny that a coffee before sitting down at my desk helps me to get the day started.
TELL US A STORY THAT, IN YOUR OPINION, BEST DESCRIBES THE ATMOSPHERE ON THE JOB AT STREPARAVA.
The atmosphere that I have always experienced and that I enjoy at the workplace is positive, relaxed and invigorating: there is a good approach to listening and cooperation, constructive feedback that helps improvement, staff with whom there are generally fruitful and not excessively competitive interactions. I think that this well-balanced atmosphere has been attained in part through the many events organised by Streparava with the objective of enhancing the team spirit amongst the various work teams – Fabbrica in Famiglia (Factory in the Family), musical events, moonlit walks in the mountains, football tournaments, etc. …
COULD YOU TELL US ABOUT RELATIONS WITH YOUR COLLEAGUES?
I have a sociable, open character: I get on well with everyone, and I think that I have developed good relations.
IS THERE A PRODUCT TO WHICH YOU ARE PARTICULARLY ATTACHED?
The product for which I have the greatest affection is without doubt the payslip: it brings happiness to the hearts of all employees.
WHAT ADVICE WOULD YOU GIVE TO A PERSON WHO WOULD LIKE TO JOIN THE STREPARAVA TEAM?
Notwithstanding the appreciable dimensions in terms of employees, sales and growth, for me it is still the family that has helped me in my development, believing in me and supporting me right from the start. So my advice to someone who wishes to become part of Streparava is to consider this team as a family in which everyone's contribution is indispensable, to the benefit of us all.
READ THE LATEST INTERVIEWS