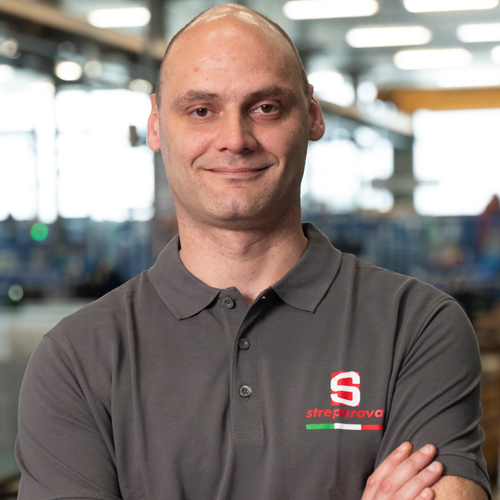 DO YOU REMEMBER YOUR FIRST DAY AT THE COMPANY? TELL US HOW IT WENT.
It was 2004. As soon as I arrived, the human resources manager at that time, Mr. Monte, took me to the DLB division, and while we were walking through the department, I felt a flurry of emotions: the excitement about a new start, a degree of anxiety, and the desire to be noticed and to learn more about this company. Then I was entrusted to Mr. Pietro Marchetti, who took me to my first workstation, the TECNOFIRMA industrial parts washer, where I received instructions from my new colleagues, always ready to answer all my questions. That was how my career at the company began.
HOW DID YOUR CAREER AT STREPARAVA DEVELOP?
My work at Streparava has been a process of constant development, starting from predominantly manual workstations, and moving on to increasingly innovative systems.
WHAT DO YOU LIKE MOST ABOUT YOUR WORK AT THE COMPANY?
Having the opportunity to learn about the ever-new systems and processing techniques, from people who are committed to continual improvement.
WHICH WAS THE MOST REWARDING MOMENT?
The most rewarding moment was when I received an award for the improvement proposals (kaizen) that I presented to the company.
WHAT IS THE FIRST THING YOU DO AS SOON AS YOU REACH THE COMPANY? AND WHICH RITUAL CAN YOU NEVER REFUSE?
In this difficult period, the first thing that I do as soon as I reach the company is to perform the Covid safety protocol, measuring my body temperature and, after having clocked in, disinfecting my hands using the sanitiser. The ritual that I can never refuse is dedicating sufficient time to concentrate on, and visualise, what I am about to do.
TELL US A STORY THAT, IN YOUR OPINION, BEST DESCRIBES THE ATMOSPHERE ON THE JOB AT STREPARAVA.
More than a story, I have a phrase that provides an appropriate depiction of the atmosphere at the company. "Alone we can do so little, together we can do so much".
COULD YOU TELL US ABOUT RELATIONS WITH YOUR COLLEAGUES?
I have excellent relations with my colleagues; working with them is always a pleasure, and their presence brightens up the location.
IS THERE A PRODUCT TO WHICH YOU ARE PARTICULARLY ATTACHED?
I am particularly attached to Volvo rocker arm shafts, because I have had the chance to work on the production phases, right from the start.
WHAT ADVICE WOULD YOU GIVE TO A PERSON WHO WOULD LIKE TO JOIN THE STREPARAVA TEAM?
To people who would like to become part of the Streparava team, my advice would be to find the motivation for continuous professional improvement.