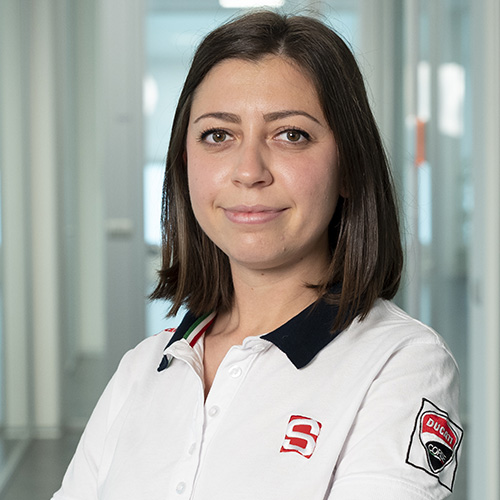 DO YOU REMEMBER YOUR FIRST DAY AT THE COMPANY? TELL US HOW IT WENT.
On 2 September 2019 I began my career path at Streparava… in torrential rain. I remember that I met and got to know Marina Archetti, who, like me, was starting on that very day. Right after that, Alberto Delpozzo came to fetch me and I began my meet and greet tour of the various offices: all very exciting!
HOW DID YOUR CAREER AT STREPARAVA DEVELOP?
I have been at the company for a relatively brief time, and so for the moment I could define my career path as short, but very intense! I arrived with the job title of Environmental Specialist, assisting Alberto Delpozzo in the management of procedures linked to the environment and the respective management system, and then I started a parallel path in the area of safety: in fact, in March, I became ASPP (Prevention and Protection Service Advisor).
WHAT DO YOU LIKE MOST ABOUT YOUR WORK AT THE COMPANY?
The part that I like most is contact with people, above all in the production departments!
However… I am very shy and I don't socialise very much.
WHICH WAS THE MOST REWARDING MOMENT, AND WHICH WAS THE HARDEST?
The most rewarding moment and the hardest moment are connected in a way: I arrived from a previous very different job, and so "setting myself up" in a totally new world and making myself known was hard, but definitely rewarding.
WHAT IS THE FIRST THING YOU DO AS SOON AS YOU REACH THE COMPANY? AND WHICH RITUAL CAN YOU NEVER REFUSE?
I don't have a specific habit, my office is always very busy: you can never be sure about what will happen. In any case, an unmissable moment is mid-morning coffee: the fuel necessary to face the day!
TELL US A STORY THAT, IN YOUR OPINION, BEST DESCRIBES THE ATMOSPHERE ON THE JOB AT STREPARAVA.
To describe the atmosphere at Streparava, I would use the word inclusion: this was noticeable from my first months at the company, when, during the corporate dinner, I felt involved and part of a group, even though I had been there only for a couple of months.
COULD YOU TELL US ABOUT RELATIONS WITH YOUR COLLEAGUES?
If I had to describe relations with my colleagues, I would say enjoyable, fun and relaxed: definitely a great team!
IS THERE A PRODUCT TO WHICH YOU ARE PARTICULARLY ATTACHED?
It's easy to answer this question: I feel a particular affection for the rocker shaft, because it was the first product that Alberto showed me during my earliest days at the company.
WHAT ADVICE WOULD YOU GIVE TO A PERSON WHO WOULD LIKE TO JOIN THE STREPARAVA TEAM?
To those who wish to become part of the Streparava team, my advice would be to take the plunge!
Your experience will grow gradually, above all when your background is very different from work at this company.
READ THE LATEST INTERVIEWS