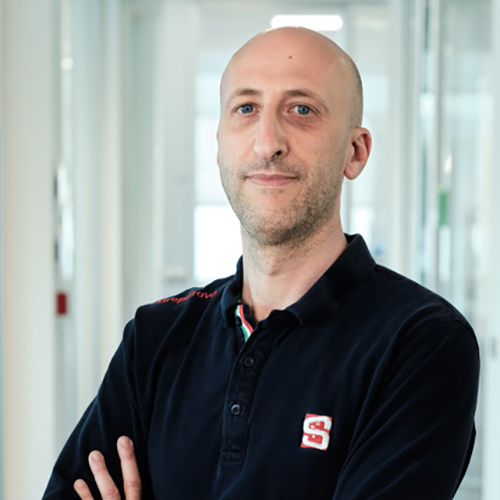 Testing Center & Prototype Manager
DO YOU REMEMBER YOUR FIRST DAY AT THE COMPANY? TELL US HOW IT WENT.
It was 26 August 2003, 18 years ago! I found myself in the reception with Antonio Nicolis and we were greeted with a smile by Valerio Brescianini.
At that time the commendable habit of taking new arrivals on a tour of the company to meet their future colleagues had not yet been adopted, and so I went straight to what I still feel as being "my" office: Research and Development.
Here, Francesco Roda, Claudio Mondini and Rossano Pezzotti were waiting for me, and I joined them as part of the machine tool design group. I received a warm welcome, I immediately felt part of the team, and likewise as part of the group that was working on the construction of the famous prototype S63.
HOW DID YOUR CAREER AT STREPARAVA DEVELOP?
It was, and still is, very exciting. I started in the machine tool and equipment design group, where Roda's and Mondini's experience enabled me to rapidly develop my technical expertise, acquiring the insights that cannot be learnt at school. At the same time, I worked on the design of the Daily S2000 Evo with the automotive group, performing structural calculations on the suspension components.
In 2008 I was made head of IAE (the acronym stands for Innovation and Advanced Engineering), a role in which, together with Claudio Mondini, we developed innovative ideas that in later years were incorporated into new products. That period was very productive from both human and technical points of view, because we had the opportunity of working at 360°, including new solutions, new clients and new products.
In March 2009 I was made head of DTP, and that marked the beginning of a new adventure, amongst prototypes and testing, that enabled me to operate on all the products made by our company, and gave me the privilege of being among the first to work on the new items that would then become part of our portfolio.
WHAT DO YOU LIKE MOST ABOUT YOUR WORK AT THE COMPANY?
Its great variety! It is amazing just how many things we are lucky enough to work with every day at DTP. New products, ever-different tests (we have even tested a railway axle!), which are a challenge, but also an exciting opportunity for technical and professional improvement.
WHICH WAS THE MOST REWARDING MOMENT, AND WHICH WAS THE HARDEST?
I have been lucky enough to have had very many rewarding moments, starting from the trust in me that the Streparava family demonstrated by giving me new roles, right through to the satisfaction of seeing the creation of many new products. But the truly landmark event for me was the authorisation of our Testing Center. This was a genuinely difficult task to implement, but it enabled me to understand that with determination and perseverance, along with cooperation and a team spirit, nothing is impossible.
I find it harder to remember the difficult moments, which were mainly disappointments due to possibilities that evaporated, not always due to our part of the work. More specifically, I remember the Scania order that kept us busy at DTP for over two years, with the client expressing appreciation for our contribution, even though unfortunately the contract did not proceed any further.
WHAT IS THE FIRST THING YOU DO AS SOON AS YOU REACH THE COMPANY? AND WHICH RITUAL CAN YOU NEVER REFUSE?
In the morning, the first thing that I do is to circulate amongst my departmental colleagues to say hello and share the start of the day with them.
The only ritual that I could never do without is coffee with my colleagues after lunch, a way of recharging and getting ready for the afternoon's work.
TELL US A STORY THAT, IN YOUR OPINION, BEST DESCRIBES THE ATMOSPHERE ON THE JOB AT STREPARAVA.
It was September 2003 and I had been in the company for just a few weeks. I received a phone call from Carlotta Martinelli (whom I hadn't yet met and so I didn't know what role she had), who said these precise words to me: "Your pheasant is here, ready for you to collect". I had no idea of what she meant, but I thanked her and ended the call. I went to see the legendary Edy and asked her what it was all about. She, who has always been a step ahead and who knew everything, told me that Cavaliere (Sir) Gino Streparava gave a pheasant that he had shot himself as a welcome gift to the new employees. For me, this is a good portrait of the Streparava company: a multinational concern with many activities and state-of-the-art products, that has nonetheless retained a family atmosphere, and in which interpersonal relations, comprising interactions with the owners, are an integral part in the approach to corporate business.
COULD YOU TELL US ABOUT RELATIONS WITH YOUR COLLEAGUES?
I get on well with everyone, I try to maintain a friendly approach while also ensuring the professionality that is necessary to do our tasks well.
IS THERE A PRODUCT TO WHICH YOU ARE PARTICULARLY ATTACHED?
Working at DTP, we have the chance to handle nearly all Streparava's products, but then they "abandon" us and progress to series production in the various divisions. So I feel ties to all the products, even those that we only brought to the level of prototype phase and that have never been put into production.
However, considering my own personal career path at Streparava, I have to say that I am particularly attached to machine tools, and above all the S63 which was the first project on which I worked.
WHAT ADVICE WOULD YOU GIVE TO A PERSON WHO WOULD LIKE TO JOIN THE STREPARAVA TEAM?
You should always want to learn more, without resting on your laurels, and you should be willing to listen to everyone.
READ THE LATEST INTERVIEWS