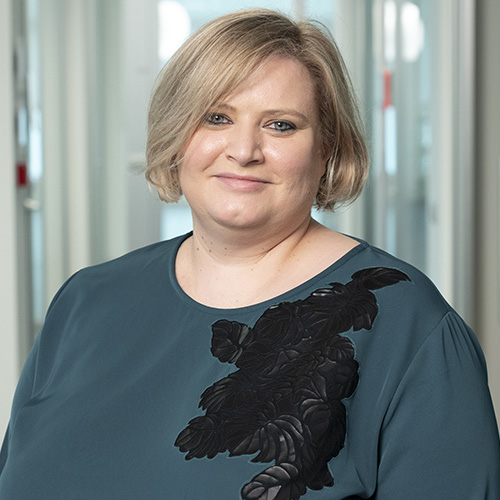 Corporate Logistics Manager
DO YOU REMEMBER YOUR FIRST DAY AT THE COMPANY? TELL US HOW IT WENT.
My first day was strange, in the sense that of course, a new person feels out of place: but the positive thing was finding an onboarding procedure that had already been constructed. I take great pleasure in remembering the cordial welcome that I received from the start. A friendly reception on the first day is a great help!
HOW DID YOUR CAREER AT STREPARAVA DEVELOP?
Today I am working in the same role for which I was taken on: considering that 2020 was heavily affected by Covid, I hope to be able to make my own contribution at a corporate level in the coming months.
WHAT DO YOU LIKE MOST ABOUT YOUR WORK AT THE COMPANY?
One of the things that I like most is that many decisions can be taken at intermediate levels, without having to wait for too many "OKs". This means feeling a sense of trust on the part of the heads concerned.
WHICH WAS THE MOST REWARDING MOMENT, AND WHICH WAS THE HARDEST?
I am still too young, in corporate terms, to be able to assess the "most …" moments. I hope that I will enjoy some rewarding moments over the next few months, following the approval of a project that is of great importance at both personal and professional levels. Harder, or perhaps very tense, moments occur more frequently in this period, but what makes them manageable is the clear awareness that they can be solved by working together. I would like to stress that this is not a commonly-found feature in companies: at Streparava, when a problem arises, everyone is involved. This does not mean passing it on to someone else: on the contrary, it means sharing actions and plans in order to try to solve it as best as possible, without searching for scapegoats.
WHAT IS THE FIRST THING YOU DO AS SOON AS YOU REACH THE COMPANY? AND WHICH RITUAL CAN YOU NEVER REFUSE?
Coffee! Without a coffee as soon as I have arrived, I am unable even to say hello to my colleagues, and I apologise for this. After coffee, I check our clients' credit ratings!
TELL US A STORY THAT, IN YOUR OPINION, BEST DESCRIBES THE ATMOSPHERE ON THE JOB AT STREPARAVA.
A few months ago, I was present at the corporate years of service awards. During the ceremony I saw the people's pride in belonging to what comprises a family, not just on paper, but above all in reality. The words of praise directed to the employees, and their expressions, gave me an impression of the powerful bonds that make people feel part of something larger. There was no rhetoric, but true participation.
COULD YOU TELL US ABOUT RELATIONS WITH YOUR COLLEAGUES?
I think that relations are reasonably good, even though one feels a lack of contact with colleagues outside the company.
IS THERE A PRODUCT TO WHICH YOU ARE PARTICULARLY ATTACHED?
Without doubt, axles: it was a little like returning home, considering my previous professional experience. My first job was at the Iveco headquarters in Suzzara.
WHAT ADVICE WOULD YOU GIVE TO A PERSON WHO WOULD LIKE TO JOIN THE STREPARAVA TEAM?
Welcome to the company! Take some time to observe and understand, and then "roll up your sleeves", and never stop using your brain in order to improve continuously. That is the most important thing: to constantly try to improve and dream the company's future.
READ THE LATEST INTERVIEWS