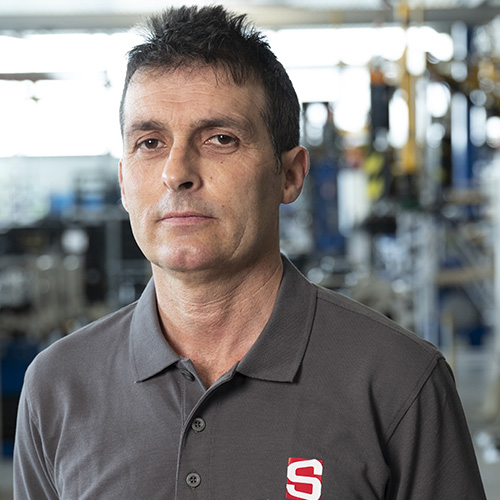 DO YOU REMEMBER YOUR FIRST DAY AT THE COMPANY? TELL US HOW IT WENT.
I began my career path at Streparava on 16 May 2019. Joining the DSL division, for someone like myself who had come from an engineering company after 33 years, meant: there is a whole new world to be discovered.
That first day was packed with contrasting emotions: new roles, new colleagues, shift working. It was like "starting over", or to be more exact, a true lottery.
HOW DID YOUR CAREER AT STREPARAVA DEVELOP?
I could define these two years of work as challenging. I changed from my previous job with a single daily shift, to work on a three-shift basis, supplying materials, loading and unloading, to my colleagues working on the production lines. It is important to "keep your eye on the ball" in order not to get behind.
WHAT DO YOU LIKE MOST ABOUT YOUR WORK AT THE COMPANY?
Nothing specifically: however I would like to try working in other departments, especially the warehouse.
WHICH WAS THE MOST REWARDING MOMENT, AND WHICH WAS THE HARDEST?
In general I am an orderly person even in everyday life, and so if, at the end of the shift, everything is neat and tidy, and I have finished my tasks satisfactorily, I feel a great sense of satisfaction.
WHAT IS THE FIRST THING YOU DO AS SOON AS YOU REACH THE COMPANY? AND WHICH RITUAL CAN YOU NEVER REFUSE?
I am meticulous about punctuality, and I even reach the company quite a while before the time at which I have to clock in. This enables me to talk to my colleagues on a number of different subjects (from football, in which I have a keen interest, to the latest news, or simply on what the day holds in store) with a coffee, as a "good start to the shift" of work.
TELL US A STORY THAT, IN YOUR OPINION, BEST DESCRIBES THE ATMOSPHERE ON THE JOB AT STREPARAVA.
The atmosphere can vary, we all try not to transfer the problems in our private lives to the workplace, but of course, this is not always possible. I think that if there is mutual respect amongst colleagues, together with a healthy dose of optimism, even the corporate problems can be metabolised and solved more easily.
COULD YOU TELL US ABOUT RELATIONS WITH YOUR COLLEAGUES?
I received a warm welcome, my colleagues immediately made me feel at home, and this made my entrance into the company a little easier. All this enabled me to develop my relations with them as best as possible.
WHAT ADVICE WOULD YOU GIVE TO A PERSON WHO WOULD LIKE TO JOIN THE STREPARAVA TEAM?
I joined Streparava when I was 53 years old, so in my maturity, and for me, starting afresh was of considerable significance. It helps to treat everything with a generous pinch of enthusiasm, accepting everything new. Of course, things are not positive every day, but this is an integral part of the ingredients for a good corporate career path, in addition to something that should never be missing: commitment. The latter leads to results, sooner or later.
READ THE LATEST INTERVIEWS