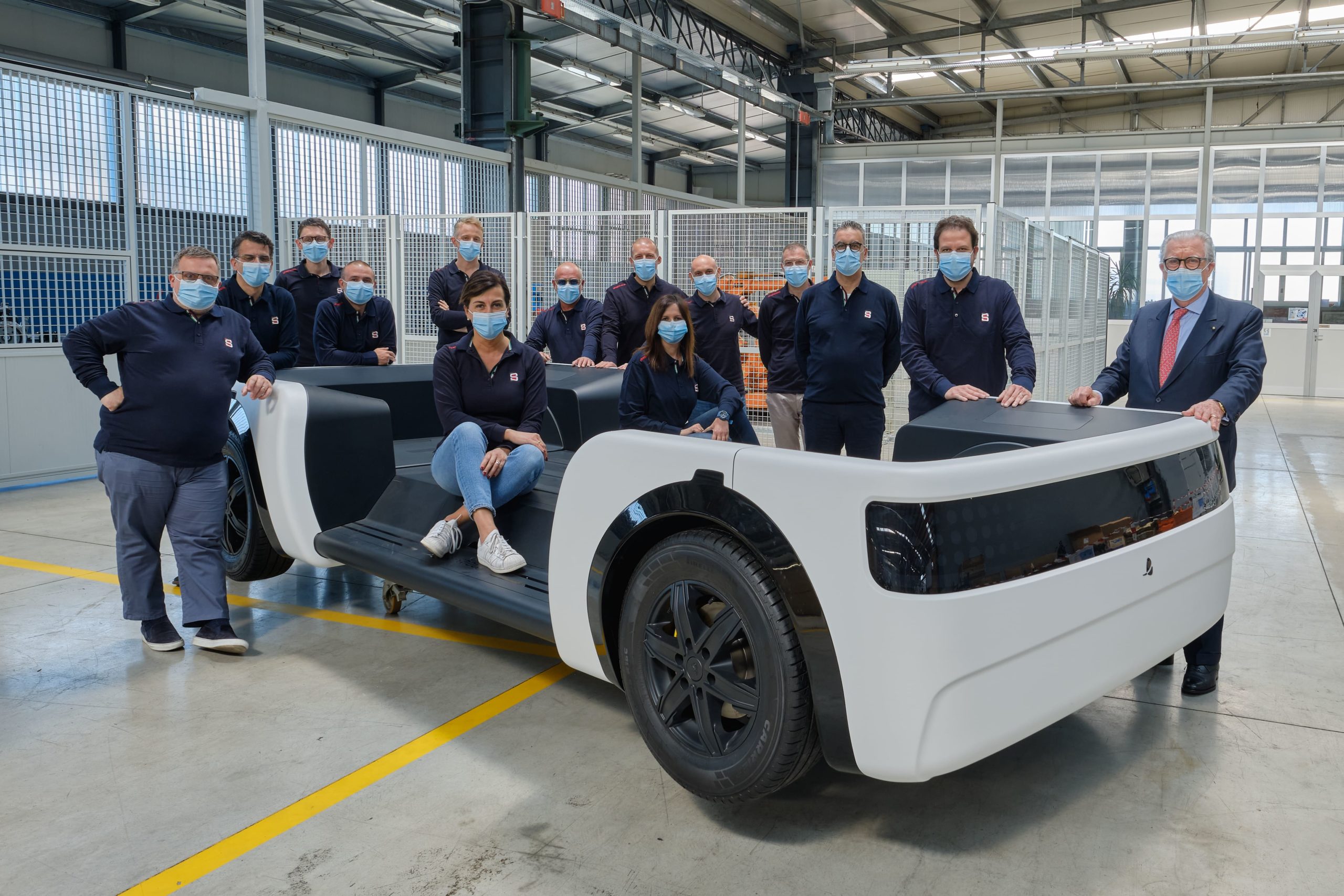 PASSIONATE, INSPIRED, SUSTAINABLE: WHAT DOES THIS MEAN FOR YOU?
The words passion, inspiration and sustainability are part of the Streparava team's DNA. Every day, it is passion that recharges our energy; it is inspiration that accompanies us on our path as "automotive professionals"; it is sustainability that supports us in our responsibility, as managers, of making informed choices day by day.
WHICH ARE THE MILESTONES OF STREPARAVA'S SUCCESS OVER THE LAST 70 YEARS?
It is very difficult to mention all the milestones of 70 years of success, but without doubt they include:
The long-lasting partnership with Iveco, a client that has enabled the company to grow for 40 years! Very sustainable, I would say!

Bonds with the local area, and the Family's inborn approach to financial and social sustainability

The acceleration made possible by winning new clients (in addition to Iveco), starting with Volvo Trucks in 2011

The decision to share corporate strategy with the principal stakeholders

The policy of lean transformation

The internationalisation achieved by the purchase of facilities abroad
WHAT IS IT THAT SETS STREPARAVA APART FROM OTHER COMPANIES IN THE SAME SECTOR?
In recent years, Streparava has been pursuing a process of growth and differentiation regarding Clients and products, successfully offering a complete service that ranges from design to prototyping and industrialisation, right through to series production.
In comparison with other companies in the sector, Streparava is recognised for the speed and reactivity with which it solves problems deriving in part from external factors caused by economic and market conditions.
Clients recognise the company's exceptional expertise and skills, in that Streparava can offer tangible technical support in terms of development, component industrialisation, and the definition and selection of the supply chain, guaranteeing quality and competitivity for its Customers.
THE YEAR 2020 HAS RADICALLY CHANGED THE WORLD OF WORK. HOW HAS IT AFFECTED STREPARAVA'S ACTIVITIES?
Over the last twelve months, we have undergone, almost without noticing it, an accelerated process of digitalisation, and in a very short time we have reached a position that in all probability we would have only attained over the course of several years. We have performed an unprecedented cultural advance, considering the speed with which it took place. Streparava's activities were able to continue successfully, though in a different way. We have understood that even when we are not under the same roof, we can still work together. We reacted, by means of our technical and technological capabilities, along with our resilience. Another demonstration that Darwin was right: our capacity for adaptation is the key to our success.
WHAT GIVES YOU MOST PRIDE IN YOUR WORK AT STREPARAVA?
The most powerful emotion that we all share is the "sense of belonging". We all experience the pride of being part of a company whose mission includes the word "family". Attention, listening, and support for our people have been key actions for Streparava since 1951, hallmarking our internal relations. Often you hear about the concept of "people at the centre", but the largest difficulty is that of being coherent. Every choice, every decision begins with respect for people.
WHAT IS THE MOST OBVIOUS AND EFFECTIVE TECHNOLOGICAL IMPROVEMENT TO HAVE BEEN DEVISED BY STREPARAVA?
Streparava's technological development over the course of its 70 years has always been based on continual improvement with respect to the state of the art of the market's benchmarks, by means of the implementation of elements of our own expertise in terms of specific application and innovation, qualities represented by the skills of our human capital. The most outstanding and effective technological improvement was that of identifying and adopting a lean, taut, smart and flexible approach to manufacturing processes, on every occasion calibrating the levels of complexity, automation and verticalisation. Therefore the combination of advanced technology, efficiently applied at Streparava, ranges from processes with very high levels of automation, underpinned by computer vision systems, right through to semi-automatic lines, in which the operator's indispensable contribution is enhanced by sophisticated man/machine interfaces. This approach has enabled an improvement in our manufacturing processes in terms of productivity, efficiency and availability, as well as ergonomics and conditions of work, in addition to the improvement and professional growth of our staff. Many processes have been revised according to a "one piece flow" manufacturing concept with simplified layout, attaining excellent results in the reduction of throughput lead time and interphase buffering, and greater process flexibility, control and reliability, which have positive effects on the quality of our products.
OVER THE YEARS, WHAT DO YOU THINK HAS BEEN THE BEST INVESTMENT?
Over the years, Streparava has made large investments into manufacturing equipment, research and development, and staff training.
The latter aspect has always been a theme to which Streparava has dedicated considerable attention, a concept in which it genuinely believes, considering the company as comprising equipment/machinery, but above all people capable of "making the difference" with respect to the competition.
By following this approach, one of the greatest investments made by Streparava has been the formulation of the medium/long term corporate strategy, involving the different levels of the company in order to create a shared, clear and solid programme that enables reaching the objectives that have been set.
Streparava's operations have demonstrated a clear coherence with this strategy, namely the acquisition of companies making complementary products (camshafts, crankshafts, connecting rods), opening plants in Best Cost Countries (SIND), participation in an innovative company manufacturing sensor technology and components involved in autonomous driving, and most recently, the acquisition of an aluminium casting foundry: these are all steps towards offering Clients a wide range of products and solutions, as well as providing the expertise and resources necessary to follow new market trends in the areas of weight reduction, electrification, and more generally on the new concept of mobility.
FOR THE COMPANY'S FUTURE, HOW IMPORTANT IS THE DECISION TO MOVE TOWARDS PRODUCTION HALLMARKED BY SUSTAINABILITY?
The decision to pursue a production hallmarked by sustainability is of fundamental importance for Streparava's future. For us, our roots in the local territory of our manufacturing units are crucial, and this can be seen in an attentive and responsible approach to the management of all the social, economic, environmental and safety-related impacts. The importance of adopting manufacturing policies and strategies hallmarked by sustainability requires, both today and in the future, the allocation of resources and our operational activities characterised by virtuous corporate procedures and practices, which will also help to further improve our competitivity and resilience. This is why, both during the phase in which new manufacturing processes are planned, and in the phase of the continual improvement of existing processes, the objectives that we set comprise the enhancement of safety conditions, but also targeted operator training, the notable reduction of internal and external environmental impact, and of the direct and indirect consumption of resources. Streparava, in addition to the fact that it has been working in this direction for some time, has attained important certifications, but most importantly, it compiles its Annual Report on Corporate Sustainability, which provides direction and guidance.
IN YOUR OPINION, WHICH OPERATION PERFORMED FOR THE BENEFIT OF STAFF WAS MOST APPRECIATED BY THE EMPLOYEES?
One of our three values is wellness, which we consider in physical, mental and emotional terms. Considering the many different activities and operations introduced over the years (company restaurant, scholarships for meritorious children, corporate seniority prizes for 20-30-40 years' service), it is a pleasure to describe the latest development to have hallmarked our life in the company in 2020: the focus on health. For us, the year 2020 began with a vaccination campaign, financed by the company, against the meningococcus epidemic, which had become serious above all in the Bergamo area. Then the year continued with the pandemic, and right away the company gave all its staff facemasks, pocket flasks of hand sanitiser (which had become impossible to find in March), screenings with swab and serological tests, and medical insurance for all those affected by Covid. What we had conceived as physical wellness, principally in terms of sports, was transformed into health protection and the guarantee of being able to work safely, with all the procedures required by the national Covid protocol and that implemented within Streparava.
READ THE LATEST INTERVIEWS