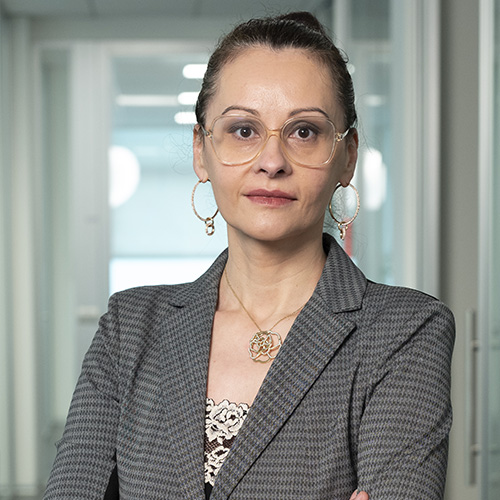 DO YOU REMEMBER YOUR FIRST DAY AT THE COMPANY? TELL US HOW IT WENT.
My first day at work was a rollercoaster of emotions. To be taken on by an important company right after attaining my diploma meant great joy for myself and my family. On that day I wanted to seem older and more serious than the 18-year-old girl that I was, but I wasn't entirely successful, considering that I received a friendly chiding for my dress code. I can laugh about it now, but at the time I totally panicked! I spent the day making innumerable notes from advice provided by my colleagues, whom I remember with great affection for their patience and the help that they have always given me.
HOW DID YOUR CAREER AT STREPARAVA DEVELOP?
I began working at the purchasing office, and then in logistics. Over the years I have alternated between these two areas, but I have spent most time on shipping.
WHAT DO YOU LIKE MOST ABOUT YOUR WORK AT THE COMPANY?
I like the fact that my job enables me to learn new things, to perfect my existing skills, and that work is dynamic and never boring.
WHICH WAS THE MOST REWARDING MOMENT, AND WHICH WAS THE HARDEST?
I always have rewarding moments at work. For example, it could be just a call from a colleague asking me for help or some advice. There have been some difficult moments, because sometimes my personal life has had an effect on my work, or vice-versa. However, even not being able to solve a problem at work in a short period of time is in itself a source of vexation for me!
WHAT IS THE FIRST THING YOU DO AS SOON AS YOU REACH THE COMPANY? AND WHICH RITUAL CAN YOU NEVER REFUSE?
The first thing that I do when I arrive is very simple: I organise my workstation according to the priorities that I have set myself for the day. And something that I can never refuse is a coffee with a quick chat in good company, on subjects not connected to work, for a break during the day.
TELL US A STORY THAT, IN YOUR OPINION, BEST DESCRIBES THE ATMOSPHERE ON THE JOB AT STREPARAVA.
When I had a flat tyre, there was someone there to change the wheel. When I didn't have a car, there was someone who came to pick me up and brought me home again. On occasions, people have stopped to help me in very lengthy tasks, even though they were not part of their own responsibilities. When I was on crutches, people took care to ensure that I didn't have to walk too far. There are many such anecdotes that show how in this company, you will always find a helping hand if you are having problems.
COULD YOU TELL US ABOUT RELATIONS WITH YOUR COLLEAGUES?
I have an excellent relationship with my colleagues. Some of them have become good friends. In 30 years at work, I have met many fine people, and I hope to be able to meet more in the future.
IS THERE A PRODUCT TO WHICH YOU ARE PARTICULARLY ATTACHED?
I have compiled and registered delivery notes of all types over the years! I would say that they are my lucky charm, the "product" to which I am most attached.
WHAT ADVICE WOULD YOU GIVE TO A PERSON WHO WOULD LIKE TO JOIN THE STREPARAVA TEAM?
I would provide the same advice that I received right after I had been taken on. Do any task that is requested, however easy or difficult, because it will always be something that enriches your expertise. Have respect for every type of work, because even the most banal tasks are important in ensuring the correct functioning of a large corporate structure such as ours.
READ THE LATEST INTERVIEWS