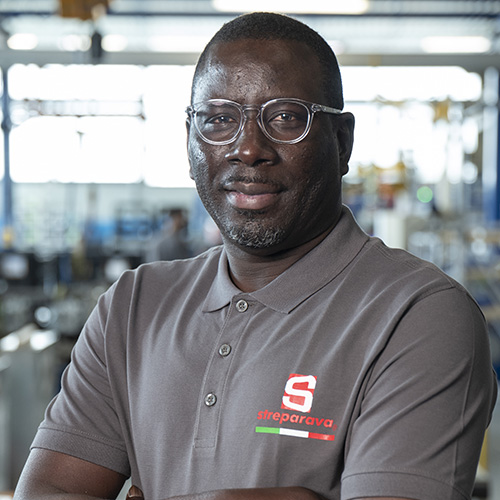 DO YOU REMEMBER YOUR FIRST DAY AT THE COMPANY? TELL US HOW IT WENT.
It was very cold and foggy, in early January 2005. I was taken to see Gianni Metelli who was the DLB shift supervisor at that time; I spent the whole day with him to learn the various components: it wasn't easy because he was a very lively and dynamic man, and it was a challenge to keep up with him. I was impressed by the welcome I received, all my colleagues made me feel at home and facilitated my onboarding at the company.
HOW DID YOUR CAREER AT STREPARAVA DEVELOP?
I thought that I would never succeed, but now I can say that I have achieved it. It's an ongoing process because you never stop learning, in terms of both professional activities and personal development. There are always new things to master, it's a process of constant improvement.
WHAT DO YOU LIKE MOST ABOUT YOUR WORK AT THE COMPANY?
I like everything about my job, I like the products that we make. My work does not help me just in economic terms, it also enables me to improve and grow as an individual, without pressure and without being stressed.
WHICH WAS THE MOST REWARDING MOMENT?
It was when my transition from temporary worker to employee was confirmed: I felt a sense of pride and satisfaction, particularly when considering Streparava's history. It is very rewarding to be part of this family.
WHAT IS THE FIRST THING YOU DO AS SOON AS YOU REACH THE COMPANY? AND WHICH RITUAL CAN YOU NEVER REFUSE?
At the moment the ritual that no one can avoid is disinfecting one's hands, but personally the real ritual is going to read the noticeboard, so that I can understand the things that I have to do, and go to pick up my tools.
TELL US A STORY THAT, IN YOUR OPINION, BEST DESCRIBES THE ATMOSPHERE ON THE JOB AT STREPARAVA.
Amongst us we always use a phrase in the Brescian dialect, "me ga la fo piö" ("That's it for me") at the end of the shift: for us, this symbolises both handing over responsibility, and the period of rest after the shift of work.
COULD YOU TELL US ABOUT RELATIONS WITH YOUR COLLEAGUES?
There are good relations, both professional and in terms of friendship. Even though we don't meet outside the company, there is always a lot of solidarity and sincerity between us.
IS THERE A PRODUCT TO WHICH YOU ARE PARTICULARLY ATTACHED?
My rocker arms, all of them. These are the products that I know best, they are the most challenging items, above all if they are new, or involve an unusual production technique.
WHAT ADVICE WOULD YOU GIVE TO A PERSON WHO WOULD LIKE TO JOIN THE STREPARAVA TEAM?
It is important to have an attitude of humility and to be prepared to learn: when you enter this company, you are virtually at zero in terms of knowledge, and there is a lot to master.
READ THE LATEST INTERVIEWS