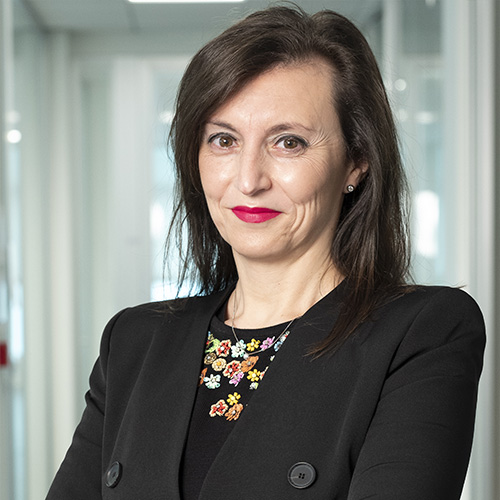 Purchasing & Process Support
DO YOU REMEMBER YOUR FIRST DAY AT THE COMPANY? TELL US HOW IT WENT.
It was January 1996, I was taking a specialisation course in "finance and tax forms" after having attained my Accountancy Diploma, when Streparava gave me the opportunity of an internship in the administrative office. I remember the image of a very professional and business-like environment, the people whom I had met were very kind and calm; even though I was young and inexperienced, as I had just finished my schooling, I knew that it would have been a fine opportunity, because the company had a good reputation locally.
HOW DID YOUR CAREER AT STREPARAVA DEVELOP?
The months passed quickly and I worked hard to absorb as much information and expertise as possible. Luckily, at the end of that six-month internship, I was given the chance to replace a person in the purchasing office who was absent on maternity leave. I accepted right away with great joy, and on 1 July 1996 I took my place in the purchasing office secretariat. I had just one month to learn everything about that job, and I was very worried, but I set to work, wrote pages and pages of notes, and then got going. At that time, a lot of the work was done by hand, typewritten, and our business management programme was Gipros. My colleagues gave me all the support possible, I was the "house junior". I liked the work in the purchasing office from the start, and I didn't know that it would become a major portion of my life. Yes, because except for a very short interlude in the goods receipt and shipping office, I never moved from the purchasing office… That office gradually became my office as well.
WHAT DO YOU LIKE MOST ABOUT YOUR WORK AT THE COMPANY?
The thing that I like most is interacting with people both inside and outside the company, and this job gives me that sort of opportunity.
WHICH WAS THE MOST REWARDING MOMENT, AND WHICH WAS THE HARDEST?
As for everyone in life, there have been some negative moments. I remember that once I asked the President himself for a transfer to another office, and he said very firmly, "No, Roberta, you are fine where you are". "Good", I answered, amazed at his tenacity, which made me proud of my work and my contribution.
I remember that the hardest moment was the introduction of electronic mail (e-mail), which marked the end of a method of work based principally on human relations. Still today this is something that I have not wholly metabolised, it was traumatic. Handling an issue with just a click and at the same time considering it resolved.
WHAT IS THE FIRST THING YOU DO AS SOON AS YOU REACH THE COMPANY? AND WHICH RITUAL CAN YOU NEVER REFUSE?
The first thing that I do when I reach the company is to greet my colleagues and share a coffee with them during the morning!
COULD YOU TELL US ABOUT RELATIONS WITH YOUR COLLEAGUES?
My colleagues are part of my life, friends. At Streparava we are first and foremost a group of people, of which I am proud to be part.
Over the years, our company has taken giant steps, the association Streparava – Adro no longer fits… now we deal with the world! No longer do we speak exclusively in Italian, and no longer do we talk just about axles (the first thing that I encountered at work)!
WHAT ADVICE WOULD YOU GIVE TO A PERSON WHO WOULD LIKE TO JOIN THE STREPARAVA TEAM?
The advice that I would like to give to someone joining the Streparava team is to retain an attitude of humility, not forgetting that working means first and foremost learning from people who have more experience than you, so that later you will be able to make your own valuable contribution.
LEGGI LE ULTIME INTERVISTE